smalltalk is a set of evidence-based strategies that parents can use to enhance the home learning environment for their children from birth up to school age.
smalltalk has five key elements. It aims to increase:
Quality and frequency of parents' interactions with their children
Level of stimulation in the home environment
Parental self-care (stress management and seeking support)
Parenting confidence
Parents' connection to their community and local services.
The smalltalk model is represented by the figure below.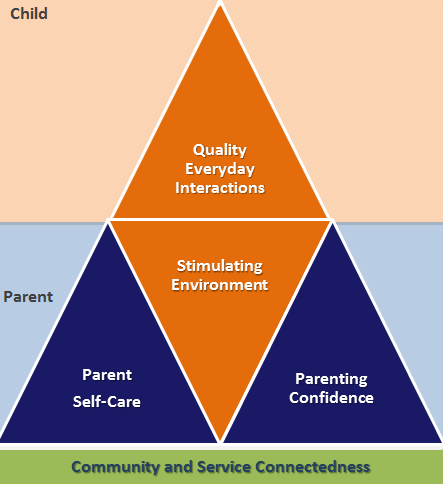 The core components of smalltalk are:
Quality everyday interactions
Quality interactions between parents and their children happen in every family. What matters is how often they occur, and in how many different ways. 'Quality interactions' refers to the little extra parents can do to make the most of everyday opportunities for children to extend their language and learning. Examples include:
Encouraging parents to interact with their children in a warm and gentle manner
Tuning into their child by giving them their full attention frequently and promptly
Attending to whatever their child shows interest in
Listening and talking to their children more frequently; and
Using teachable moments when they arise.
Stimulating environment
A stimulating environment for a child is one designed to help them learn and develop. smalltalk encourages parents to establish and maintain routines; read and play with their children; engage with their community and local resources, and consider the amount and type of media their child accesses.
Parental self-care
Parents who attend to their own health and well-being needs can more effectively meet their child's needs and stimulate their development. This component focusses on simple stress-mitigation skills and aims to increase parental coping skills.
Some examples of self-care strategies include:
Parenting confidence
Increased parental confidence can help parents turn knowledge into action by supporting them to apply the knowledge gained from participation in a smalltalk group.
Community and services connectedness
A person's well-being can be affected by the quality of their social environment and the extent to which they and their family feel supported by and contribute to their community. This component of smalltalk focuses on helping parents increase their knowledge of and participation in local, community-based services, and to access more opportunities for community-based social and personal support.